Repair of Series 7 Fritz Hansen chair – separated seat
The seat of your Fritz Hansen Series 7 chair has come loose and your chairs are creaking? And the damage wasn't the first time? I repair your iconic Arne Jacobsen Series 7 chair with an improved system ready for a second life.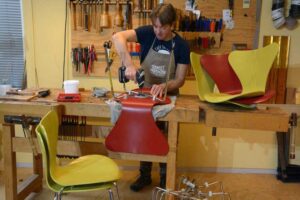 Why do my Series 7 chairs break or come loose?
In 2002, the Fritz Hansen Series 7 production was changed. Instead of a wooden mounting plate, which is glued to the seat, it was replaced by a plastic plate. These plastic plates come loose after a period of time because the glue does not adhere well to the plastic, and the plates tear due to use.
How do I repair your the Fritz Hansen chairs?
The Series 7 chairs will be glued up with a new wooden mounting plate. The wooden plate and glue are specially made, based on years of development and material testing. This is done in my workshop, for antique furniture restoration, based in The Netherlands, The Hague, founded in 1996.